Brexit and its implications on EU trademarks and designs
With the exit of the UK from the European Union at the end of 31 January 2020, you might ask yourself what the consequences for the protection of your intellectual property, particularly European Union trademarks and registered / unregistered Community designs are. Here is a short summary on the status quo (on 10 February 2020) and of what will happen at the end of 2020…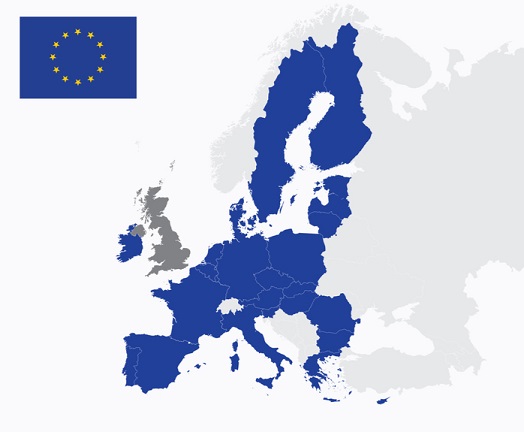 With a delay of almost a year, the UK departed the EU on 31 January 2020. However, the Withdrawal Agreement reached between the UK and EU foresees that, for a transition period from 1 February 2020 to 31 December 2020, EU law will continue to operate in the UK as it did until exit day. That means that the Intellectual Property system will also continue as it is until 31 December 2020.
But even after the end of the transition period, the Withdrawal Agreement ensures continued protection of existing EU Intellectual Property rights in the UK:
REGISTERED TRADEMARKS / DESIGNS:  At the end of the transition period, the UK Intellectual Property Office (UKIPO) will automatically convert all registered EU trademarks and Community designs to corresponding UK rights which will then come into effect on 1 January 2021:

IDENTICAL mark,

IDENTICAL specification of goods/services,

IDENTICAL application date,

IDENTICAL priority date,

IDENTICAL renewal date,

NO charge,

NO new registration procedure,

NO new registration certificate.
PENDING TRADEMARK / DESIGN APPLICATIONS:  All trademark and design applications not registered on 31 December 2020 will not be converted automatically. However, you will have another nine months until 30 September 2021 to apply for the same protection in the UK (with the same priority date) by paying the normal application fee.

 

INTERNATIONAL REGISTRATIONS:  It is not yet completely clear what will happen to international trademark and design registrations designating the EU on 31 December 2020. However, it is very likely that they will be treated just like any other EU trademark or Community design including applications.
GENUINE USE OF A TRADEMARK:  For the new UK trademarks, there will be NO new 5-year grace period of non-use, but where the 5-year period includes time before 1 January 2021, use in the EU will be taken into account. The same will apply to any 5-year period for which genuine use of the new UK trademark will have to be proven.
RENEWAL:  Where an EU trademark or design is to be renewed on or before 31 December 2020, payment at the EUIPO will also extend to the new UK right. No separate renewal will be necessary. Where, however, the renewal date falls after 31 December 2020, early payment of the renewal fee at the EUIPO will have no effect in respect of the new UK right. Thus, if you renew your EU trademark or design between 1 July 2020 and 31 December 2020, but the actual expiry date is after 31 December 2020, the early payment will only renew the EU trademark or design but will have no effect on the new comparable UK trademark or design! The newly created UK right will need to be renewed separately to enjoy protection in the UK for another 10 years.
UNREGISTERED COMMUNITY DESIGNS:  Any unregistered Community design that has come into existence automatically by first disclosure in the European Union (without being registered at the EUIPO) on or before 31 December 2020, will be protected for a total of 3 years from its coming into existence – in the EU and also in the UK by a corresponding unregistered UK design right.
for more detailed information about the consequences of Brexit for your individual EU trademark and designs rights and we will be glad to advise.