Geographical Indications: IP Protection for Wines, Foodstuffs and Agricultural Products
Geographical Indications, also known as GIs, are forms of intellectual property protection designed to protect indications associated with a location. GIs provide consumers accurate information regarding the origin of a product, as well as promote local production and enhance competitiveness. With its nearly 3,400 registered geographical indications, the European Union has been traditionally the forerunner in the field. Germany is well-known for its beers, but what else comes from Germany? In the map below is elaborated well-known GIs of Germany based on their origin.​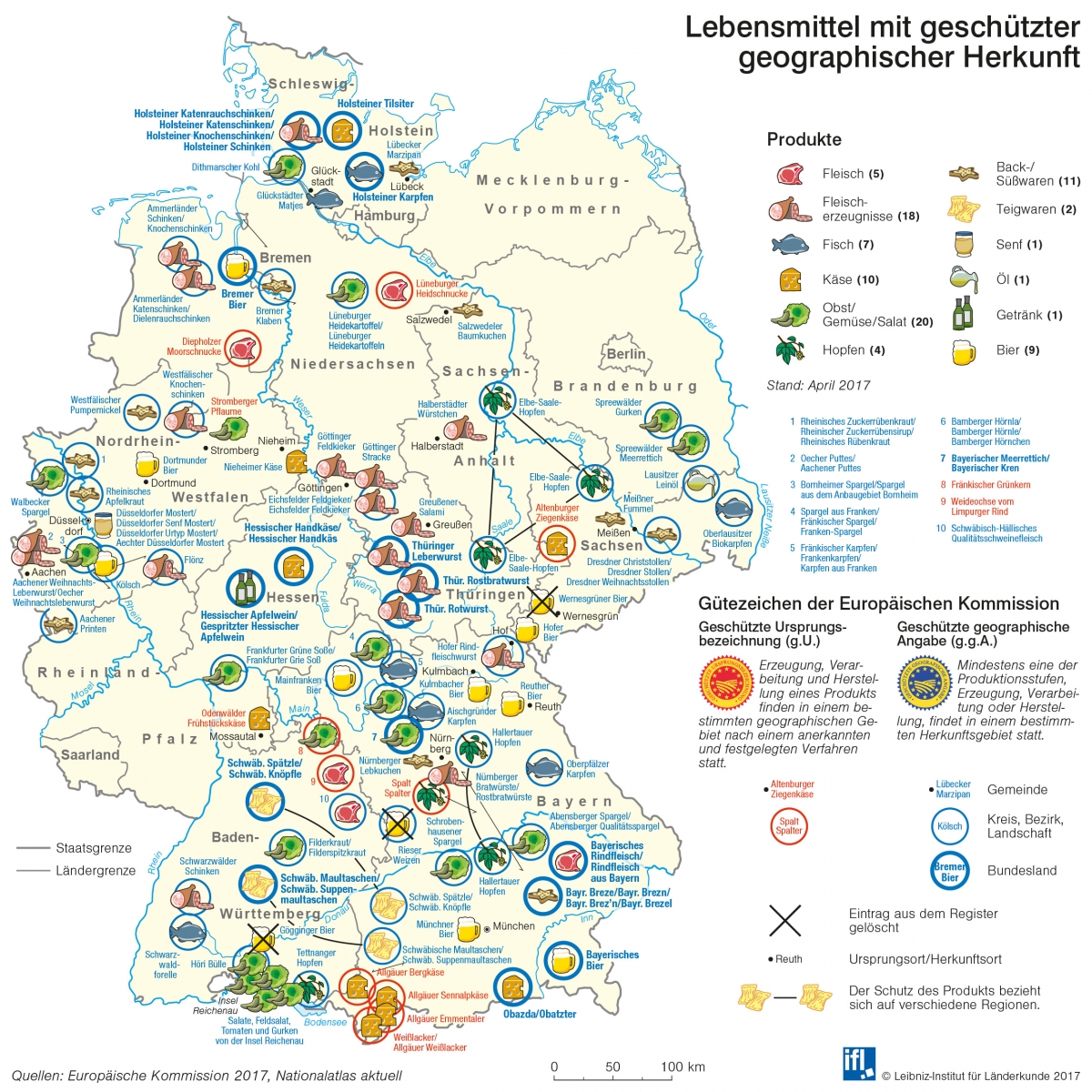 Source: Federal Ministry of Food and Agriculture website.
While going grocery shopping, we are used to buying Parma Ham, Feta and "Bayerisches beer". When buying these products, we usually have at least subconscious expectations regarding the quality and origin of the product, and we may make assumptions that the beer comes from Bayern and that Feta is Greek, for instance. We may even take it a bit granted that certain products are of some special origin based on the name of the product without actually checking the origin. However, it should be noted that although GIs are a form of intellectual property rights, the scope of protection varies throughout the world. In this article, we give you a short overview on the situation in the EU.
On international level, the protection of GIs is a layered patchwork stemming from international treaties, such as the Agreement on Trade-Related Aspects of Intellectual Property Rights (TRIPS). In the EU, geographical indication is defined as being
"a distinctive sign used to identify a product as originating in the territory of a particular country, region or locality where its quality, reputation or other characteristic is linked to its geographical origin. (Regulation 1151/12 of the European Parliament and of the Council on quality schemes for agricultural products and foodstuffs)."
The EU regime recognizes two forms of protection, namely, protected designation of origin (PDO) and protected geographical indication (PGI), available for agricultural products and foodstuffs as well as wines. PGIs can also be used for spirit drinks and aromatized wines, but PDO protection is not available for them. In addition to these, there is a third form of protection, the traditional speciality guaranteed (TSG), which highlights the traditional production process. Although TSG´s are not considered as GIs as they do not directly link the product with a place, they should be acknowledged as they are part of EU´s quality scheme, serving similar purposes and often treated similar to GIs.  It is established to safeguard traditional methods of production and recipes by helping producers of traditional product in marketing and communicating the value-adding attributes of their traditional recipes and products to consumers.

 Protected Designation of Origin (PDO): Name identifying product, whose all production steps take place in the defined geographical area. In addition, the product has to owe its quality or characteristics essentially or exclusively to their place of production and    the savoir-faire of local producers.
For example: Allgäuer Emmentaler g.U., Anglesey Sea Salt

Protected Geographical Indication (PGI): Name identifying a product, whose given quality, reputation or other characteristic is essentially attributable to its geographical origin and at least one of the production steps of which take place in the defined geographical area. For PGI agricultural products and foodstuffs, at least one of the stages of production, processing or preparation takes place in the area. For PGI wines, at least 85% of the grapes come from the area. 
For example: Holsteiner Tilsiter, Schwäbische Spetzle, West Country Lame
Traditional Speciality Guaranteed (TSG): Mark used for products of a traditional character, which results from a mode of production, processing or composition corresponding to traditional practice for that product or foodstuff or is produced from raw materials or ingredients that are those traditionally used. For a name to be registered as a traditional speciality guaranteed, it shall have been traditionally used to refer to the specific product or identify the traditional character or specific character of the product.
For example: Mozzarella, Serrano Ham
The scope of protection for registered names is rather wide, as the names are protected against both direct and indirect commercial use, in which the products are comparable to the ones under protection. Any misuse, imitation or evocation even if the true origin is indicated by expressions such as "imitation" or "style" is prohibited in the EU, providing therefore considerably high level of protection in comparison to other regions.  In 2014, the estimated value of GI infringing products in the EU was around 4.3 billion Euros, representing 9.0% of the market.
Why do we protect these indications?
GIs seek to enhance fair competition of agricultural and foodstuffs with value-adding characteristics, as well as ensure more reliable information for consumers. Furthermore, they promote innovation regarding local food production, as well as high quality of the products. Supporting local production, they create job opportunities as well as enhance rural socio-economic benefits. Although GIs has been criticized for being tools for protectionism, it should be noted that one of the main functions of GIs is to enhance fair competition and prevent misuse and counterfeiting of geographical names.
GIs are of great sales value in the European Union. According to a study conducted by the European Commission in 2011, GIs were worth €54.3 billion worldwide, and they represented 15 % of total food and drinks exports in EU.
GI Production and Consumption Shares by Country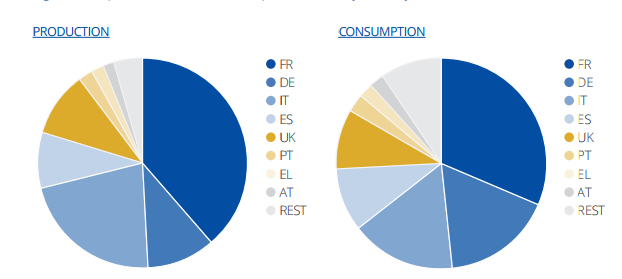 Source: EUIPO Report.
As can be seen from the table above, the top three countries regarding GIs are France, Italy and Germany. Different kinds of cheese products as well as various meat products are common for all of them. However, the production in France and Italy is more focused on fruits and vegetables, and pastries are common for Germany. Furthermore, beverages are in key roles. Beers are of special importance for Germany and wines are for France, whereas Italy on the other hand represents a mixture of products.
Although there are many registered GIs in the EU, the top 10 most popular GIs are representing 28% of the GI sales in the EU.
TOP 10 GIs in Alphabetical Order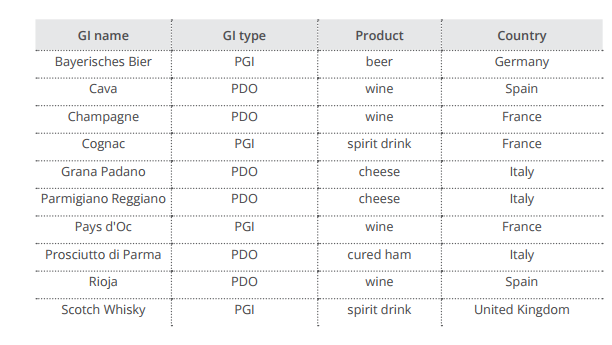 Source: EUIPO Report.
There are also other ways of protecting geographical indications. Geographical indications can thus be protected under unfair competition laws, or under EU or national collective marks as well as certification and guarantee marks. For more insight on the topic, please visit here.