GIview – the new database for Geographical Indications
At the end of 2020, the new GIview search database for all Geographical Indications (GIs) was officially launched at the online conference "Strengthening GIs". This new tool has been developed by the European Union Intellectual Property Office (EUIPO) and is constantly updated with official registered data from the European Commission (Directorate-General for Agriculture and Rural Development).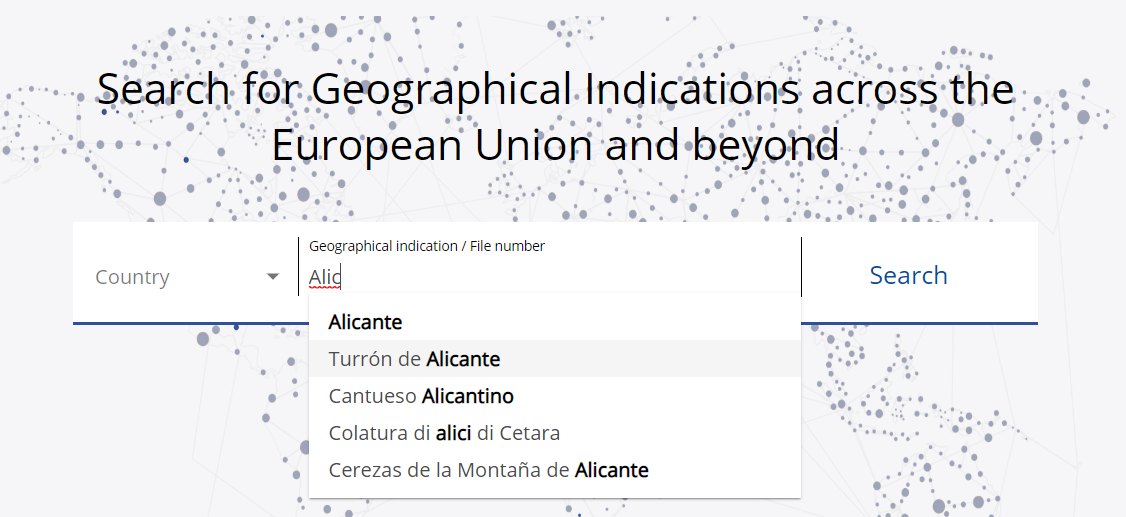 Source: www.tmdn.org/giview/gi/help
I. What are GIs and why are they important for the economy?
Geographical indications (GIs) are signs used to distinguish and identify products whose quality or reputation are linked to their geographical origin and are protected under intellectual property law.
They are key assets for the economy in the European Union. This is once again confirmed by a study conducted by the EUIPO and the European Patent Office, according to which companies that work intensively with GIs secure almost 400.000 jobs and contribute more than 20 billion Euro to the EU's Gross Domestic Product (GDP). Consumers trust products with GIs from the EU to be of a high-quality standard, which helps producers to market their products more effectively. The annual sales value of GI-protected products is put at about 75 billion EUR. The sales value of a product with a protected name on average is twice as high as the sales value of a comparable product without certification.
II. What does the GIView database contain?
GIview contains detailed information, such as GI type, priority date, legal status and basis of protection on all GIs protected in the EU (including GIs of non-EU countries protected at EU level by bilateral and multilateral agreements) as well as on EU GIs protected in non-EU countries by bilateral or multilateral agreements.
In addition, extended data can also be retrieved. For example, contact data of the GI producer groups, control bodies, maps and pictures of the products including descriptions or sustainability declarations. However, GIview only refers to GIs from the areas of wine, agricultural products, foodstuffs, spirit drink and aromatised wine.
III. The main advantages – How can GIview be useful?
The new GIView has quite a few advantages to offer. In general, GIview's comprehensive data makes it a useful tool for consumers, producers and intellectual property professionals. The search engine interface is designed to be user-friendly since you can set and combine filters to guarantee an effective search. For example, you can select a country and a product type. In addition, you can display the results on a map or in a list. It also has an auto-complete function and can correct simple misspellings.
GIview offers a relief for all potential trademark applicants, as they can check whether their mark conflicts with earlier GI's. This is important for a smooth trademark application process because earlier rights can be asserted in opposition proceedings. In addition, GI applicants also benefit from the new tool, as they can easily check their current application status.
GIview also facilitates contact between GI producer groups, business contacts and other stakeholders. It can provide direct support to anti-fraud authorities, who can easily see the descriptions and photos of the genuine product and, in the event of an investigation, directly contact the relevant authorities and the genuine product producer group.
In summary, the new GIview database offers an advanced way of simplifying searching for anyone working in the field of intellectual property law, thanks to the comprehensive data it contains.
For further information please click on the links below:
https://ec.europa.eu/commission/presscorner/detail/en/IP_20_683
https://euipo.europa.eu/ohimportal/de/news/-/action/view/8389687