Interbrand Breakthrough Brands 2017: the brands you should get acquainted with
We have often talked about the correlation between a brand and intellectual property. In the simplest of terms, one can hardly go without the other. Recognizing the importance of brands for the economy, Interbrand, a global consultancy, started publishing their annual Interbrand Breakthrough Brands list. The 2017 one has been made available recently and can be found here.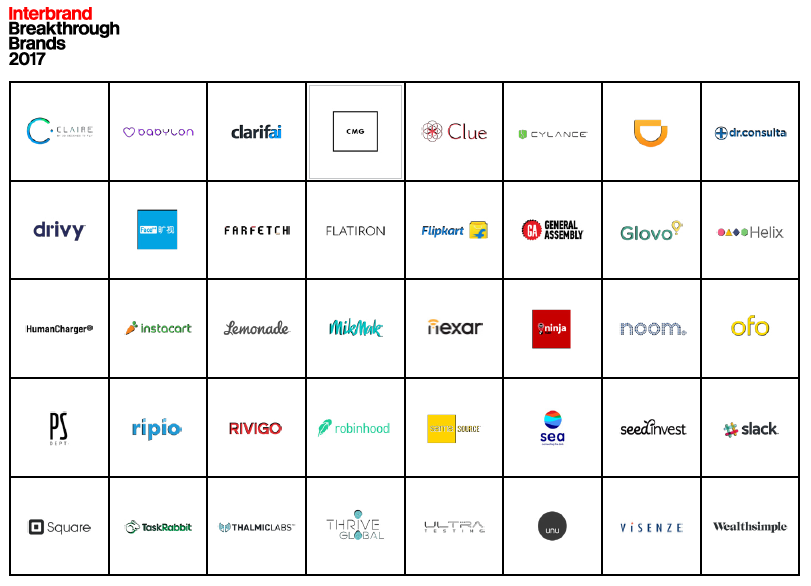 First of all, it should be said that the report highlights breakthrough moments, not breakthrough companies. It does not differentiate a well-established firm from a start-up. A breakthrough moment might occur when a company is first starting its journey, but also when it  faces a crossroads and is forced to change strategies. What makes these companies special from a sea of similar competitors is their perseverance. In their own words: "What makes Interbrand Breakthrough Brands so remarkable is not just that they're growing, but that they've figured out how to hold on to growth." And the way they do it is by continuously fortifying their brands.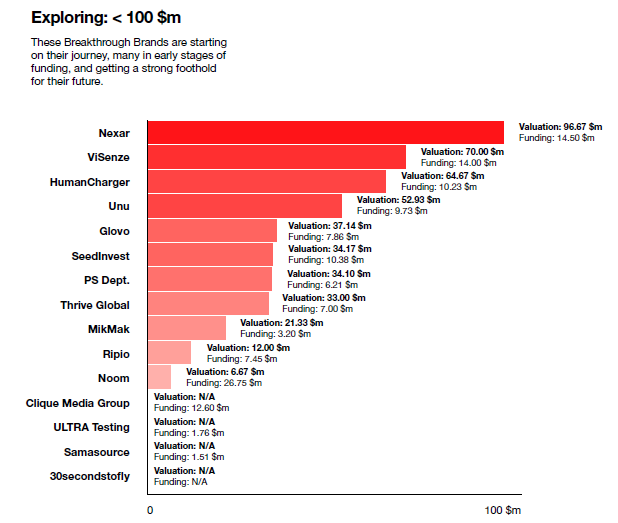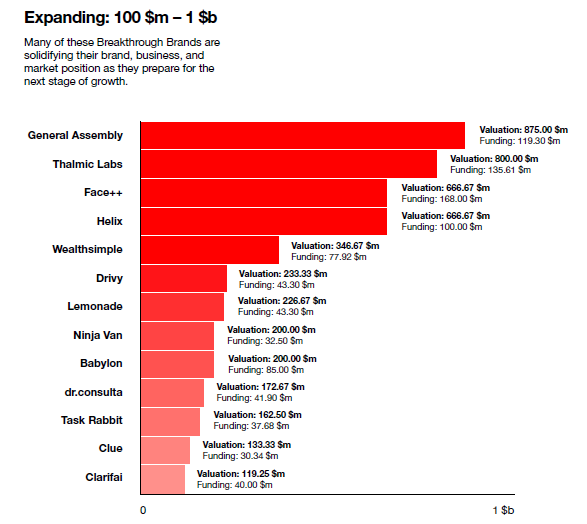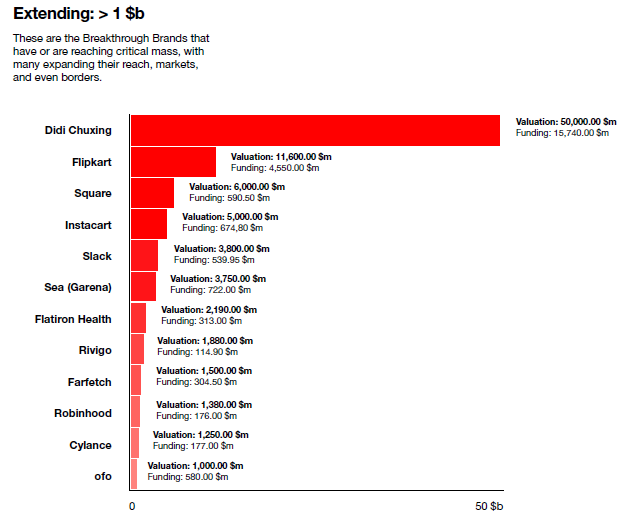 "Second time arounders": brands from 2016's list
There are several brands which were also on the 2016 list, meaning that they added on their previous year's accomplishments. The biggest success story comes from Away, a luggage manufacturer on a mission to create the perfect affordable lightweight suitcase.  They seem to be on the right path, as their social media following increased by a staggering 1595%, and their funding is over three times larger. Also experiencing a social media boom is a tampon manufacturer LOLA, with 8620% growth. The biggest web ranking leap comes from Germany, with their muesli producer mymuesli noting an almost 10000% surge.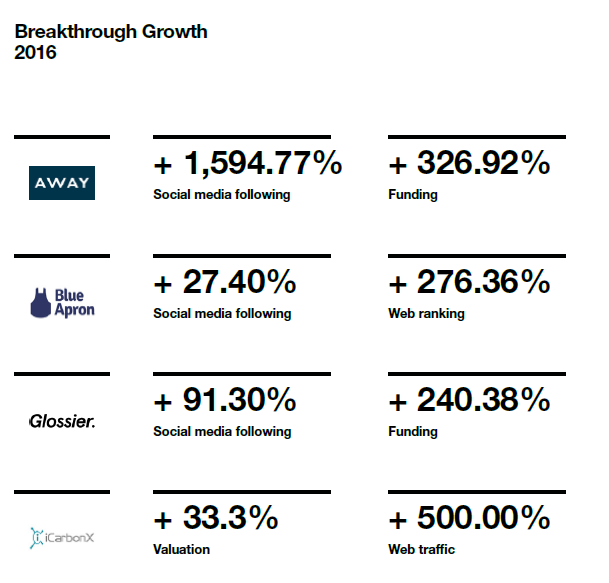 Bettering the world

There are three things that seem to be a common thread between the Breakthrough Brands: they are all relying on artificial intelligence in their work, as well as technology, while retaining a high level of social consciousness and directing their creativity towards solving some of the societal problems along the way.  The perfect example would be Samasource, a non-profit organization that fights poverty by employing impoverished people from around the globe and teaching them to work in the field of digital technology.

Another way of life quality improvement is creating the so-called "life hacks", and simplifying our everyday lives. That is the task of, e.g. Instacart, a company worth 5 billion dollars. What does it do? It eases your shopping, bundling grocery orders from different vendors into one and delivering it to your doorstep.
Also falling into this category is the change in the mobility sector. Vehicle-sharing has reached new hights, with its geographical expansion, as well as the diversity in transportation type. At the helm is 50 billion dollar-worth Didi Chuxing, a Chinese ride-sharing platform. Following is ofo, a bicycle-sharing app, worth 1 billion dollars.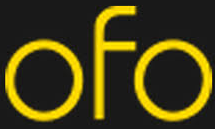 The use of Artificial Intelligence in our everyday lives
It is highly likely that AI will have influence our society more and more. Cylance, for example, is already a modern-day superhero, despite the majority of us have never heard of it. It is an AI program that anticipates hackers' moves and reacts accordingly, protecting our personal data from attacks. Nexar prevents car crashes by alerting us in time of possible collisions.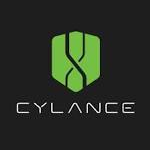 A
rtificial intelligence is also present in the field of medicine. New companies are using AI for more than mere damage control, they are increasingly using it for prevention purposes. Flatiron Health uses the technology to connect cancer centers, accelerating the pace of research and innovation. On a more day-to-day basis, British Babylon eliminates the need to go and see a doctor.

Whether you require a prescription or a consultation, a specialist will tend to your health online, without the long waiting time in front of the doctor's office.
The perks of technology
T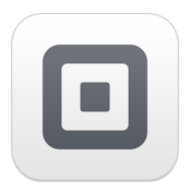 echnology changed the way we approach most things in our lives. Banking is one of the fields highly affected by it. It is safe to say that banking as we knew it is history, as more and more of its elements are transposed into the virtual realm, sometimes completely avoiding the "traditional" bank. Square, now worth 6 billion dollars, is continuously changing the face of the financial world. Starting as a credit card reader connected to a mobile phone or a tablet, it grew to service both merchants and individuals, and now even offers loans. 1,4 billion dollar Robinhood brand excludes brokers from trade by giving the role of the investor directly to the individual (therefore eliminating the commission fee).  

Another activity highly influenced by the benefits of the modern era is shopping. As we have seen with Instacart, the new motto is: "the simpler, the better". And nowadays, e-commerce is expanding insuppressibly.  Flipkart, "the Indian Amazon", has found its way to the Breakthrough list, already valuing at over 11 billion dollars. Spanish Glovo has taken delivery to a whole other level: whatever you want, at any time, within the next hour. It is no wonder that it has become an almost 40 million dollar company in two years, although still territorially limited to Spain.
Situation in Europe

The trends we have talked about on a global level could be transposed to the European territory. The innovation might come from the government, like with the Italian integration of all transportation systems, or with the British BBC, digitalizing their media content offerings.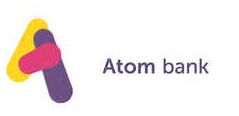 However, this does not mean that the value of start-ups has not been recognized. Spain, France, Germany and the Netherlands are infusing more and more money into smaller companies, promoting novelty and innovation.

Game-changing companies in the medical field include Babylon, HumanCharger, and Clue. Dedicated to changing the way we do our banking, we have Atom Bank and Monzo.  Personalization is getting more significance among the European population, with mymuesli, Unu, Hawkers, Glovo, Wallapop and many other firms, showing that our virtual experiences, with a little personal touch, can go above and beyond. Also, trends show we are using technology to simplify our lives, while maintaining demands for high quality. Therefore, brands like Airbnb, car2go or Drivy show the ways we can utilize our resources to the maximum, while helping others, offering them the option of renting, instead of buying.