Legal Tech and LexDellmeier's Chatbot Project
For the last two months, Oliwia Puto – our Legal Trainee was working on her Overall Project, which was the creation of a chatbot "BenBot" for LexDellmeier. "BenBot" is a mobile app that aims to facilitate and accelerate the process of filing applications for the registration of an EU trademarks. In order to achieve this purpose, it collects from the users all information that the attorneys at LexDellmeier need to prepare such applications. We are delighted to announce that this project will officially go live around December 2020/January 2021. This means that in just a few months you will be able to download the app from AppStore and use it to receive information on matters related to trademarks, IP law etc., and to send information needed to apply for an EU trademark registration – 24/7! What makes us particularly excited about this project is that (as far as we know) LexDellmeier will be the first law firm in Germany to implement a Legal Tech solution of this kind. Read the blog post to find out more!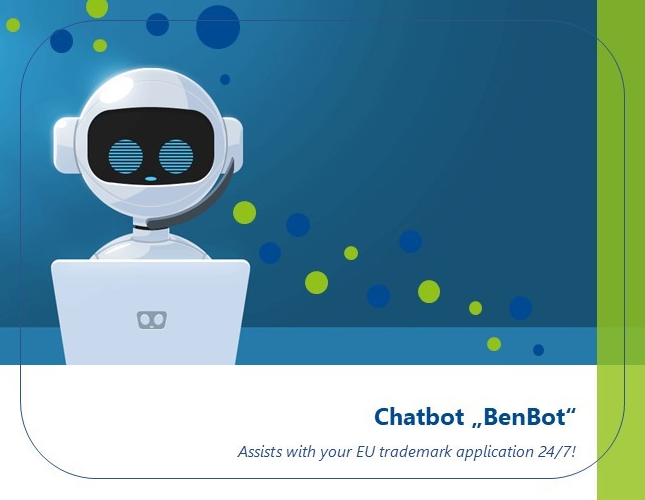 Hello! Here is Oliwia again. In this blog post I will talk about "BenBot" and broader about the Overall Trainee Project I completed during my three-month internship at LexDellmeier, in particular what it involved and what I have learned from it.  To start off, you might have noticed that in the past few years chatbots have gained in both significance and popularity. In fact, according to Forbes, as much as 80% of marketers plan to start using a chatbot in some way or another by 2020. But, what exactly are they? And what benefits can they bring to businesses? Well, a chatbot is a software application used to conduct an on-line chat conversation, instead of providing direct contact with a live human. As such, chatbots can assist people in many different areas of daily life, most notably (but certainly not only!) by providing customer support. They are very beneficial both for businesses and clients, as they reduce the waiting time, are available 24/7 and help save costs. Moreover, since they are creative and fun, clients like using them. Importantly, they usually enjoy high success and satisfaction rate.
As an innovative and client-oriented law firm, LexDellmeier realised that implementing a chatbot can both enhance the experience of its clients and reduce the workload for the attorneys. Therefore, one of the main tasks I was assigned during my Traineeship was to create a program that will facilitate and accelerate the process of filing applications for the registration of EU trademarks. The outcome of this project is called "BenBot" (it owes its name to a very sweet dachshund Ben – LexDellmeier's office dog that some readers will already know from last year's Xmas card), and is an app for mobile devices with iOS. It works in the following manner: the chatbot asks questions to the user and the user replies to them by clicking on one of the available options or typing answers. In this way, "BenBot" collects all information that the attorneys at LexDellmeier need to prepare an EU trademark application. Once the user has answered all the questions, "BenBot" extracts all relevant parts of the conversation and combines them into a form which is sent to LexDellmeier. The attorneys can then review the answers and get back to the client with professional legal advice. In addition to these key functions, "BenBot" can perform identity searches for the user and help them create the list of goods and services. Sounds quite awesome, right?!
The creation of "BenBot" was one of the tasks I enjoyed most during my internship at LexDellmeier. At the same time, it allowed me to develop numerous skills that are vital in the legal profession as well as to enhance my understanding of IP law. As a part of the project, I was assigned two different types of activities. Firstly, with help from other team members, I was responsible for the overall organisation. I have to admit that managing the work of four people was not an easy task, especially taking into account that different team members had different backgrounds and priorities (legal vs technical). However, it felt rewarding to see that the teamwork, communication and planning are improving with every meeting. Second, I was responsible for providing the "legal" input into the project. This included structuring and drafting dialogues for the chatbot, preparing the terms and conditions of the use of the app and updating LexDellmeier's privacy policy. While I found these tasks very interesting, the part of the project I enjoyed most was applying for the registration of a trademark "BENBOT" in the EU and Germany. During this process, I got involved in the drafting of the list of goods and services, performed the searches for similar and identical trademarks, evaluated the outcomes of these searches and summarised them in a form of a report. It felt truly amazing to know that I was doing tasks normally carried out by qualified IP attorneys.
Currently "BenBot" is still undergoing some technical improvements, and therefore will most likely go live around December 2020/January 2021. Stay tuned to see the final result of my project and I hope you will like it as much as I do!