Surfing through the latest data on TLDs
We all know that the Internet is everywhere and that our life without has become unimaginable. We also know that its popularity soaring by the minute. However, the rates of its expansion might be even more than anyone could have imagined. If the number of Internet users continues to rocket at current rate, it is predicted to have 5 billion users by 2020. The expected population by that time is 7.8 billion. Therefore, 64% of population in the world will be connected! This is especially shocking in comparison to the numbers from 2014, when (only) 40% of citizens were Internet users.
In the past fifteen years, not only have the numbers skyrocketed, China has taken over the lead in the highest number of Internet users. It clearly established its dominance, doubling the numbers of the next-in-line USA.

However, when looking at the numbers for registered internet domains, the largest proportion of them still come from the USA.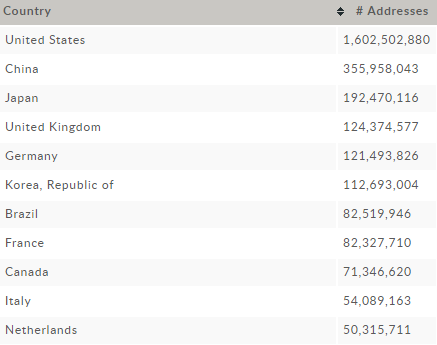 The most visited Internet sites are no surprise. Big search engines like Google, Baidu and Yahoo! are accompanied by social media giant Facebook and Google´s video sharing website Youtube.

What are TLDs
The easiest way to define a top level domain (TLD) is saying it is the last thing we type when entering an Internet address. It is the ending, the last part behind the dot.
There are six types of TLDs: infrastructure TLD (ARPA, reserved for technical infrastructure purposes), generic TLD (gTLD), restricted generic TLD (grTLD, generic, but require proof of eligibility set for each grTLD individually), sponsored TLD (sTLDa, specializedTLD representing a specific community, like .edu for universities or .gov for government), country code TLD (ccTLD, specific for each country, like .de for Germany or .fr for France) and test TLD (tTLD, reserved for testing a domain). The most popular TLDs are generic, followed by country code TLDs.
The absolute winner of this popularity contest is the .com domain. In its beginnings reserved for commercial purposes, nowadays it is available to everyone. In fact, its overwhelming popularity makes it very alluring for non-commercial entities and there has been a notable rise of such registrations in the past years.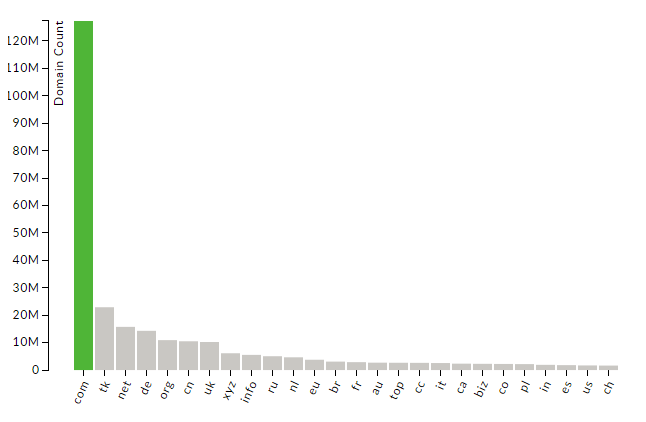 The odd (and problematic!) thing is that data shows that the domain following .com in popularity is .tk, which is the ccTLD for Tokelau, a small island in the Pacific, territory of New Zealand. In 2006 it was reported that 95% of phishing and spamming scams are conducted through .tk domain. Newer reports show that these numbers have reduced, although there is still obviously room for improvement.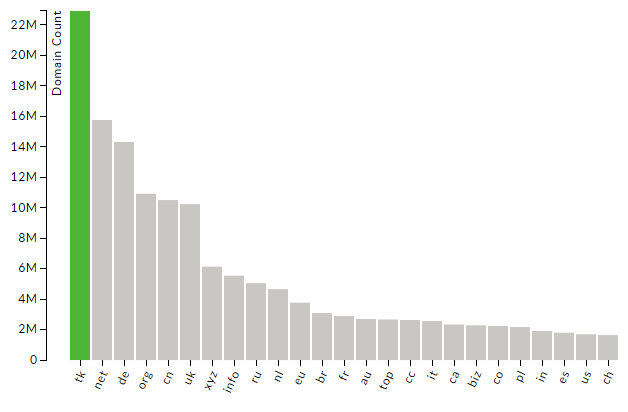 gTLD
gTLDs are the most popular types of top level domains. Strengthening in numbers daily, they are now counting over 21 302 700 registered domains.
As previously mentioned, out of all the gTLDs, the .com domain is favored the most. With its 107 043 593 registered domains, it is largely predominant to other gTLDs, with no decline in sight.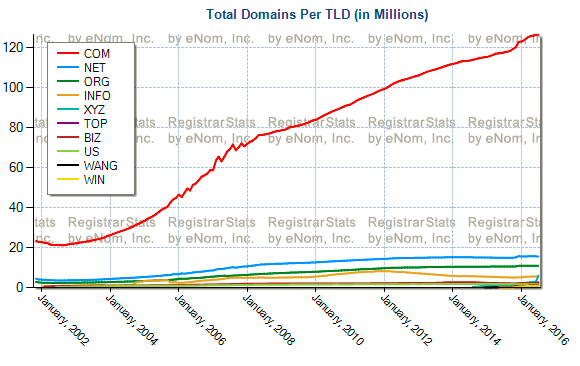 The biggest average rise in the number of registrations has been noted with the .xyz gTLD. The list is comprised out of "smaller" gTLDs, with a higher growth perspective.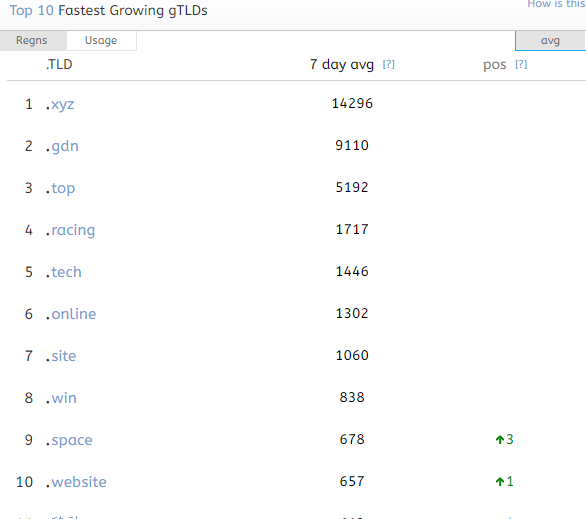 ccTLD
It is of little surprise that consumers find ccTLDs more trustworthy than gTLDs, especially if coming from their own country (95% trust level). In Europe, the largest proportion of ccTLDs comes from Germany (.de), followed by the UK (.co.uk) and Poland (pl).
Germany

The UK

Poland