Talking jewelry: what makes a valid shape mark?
An Italian decision from March 2016 clarified the scope of protection for shape marks when it comes to jewelry, where a minor design change makes all the difference. The judge confirmed that even the smaller design discrepancies are enough to exclude foul-play and the possibility of misleading the customers.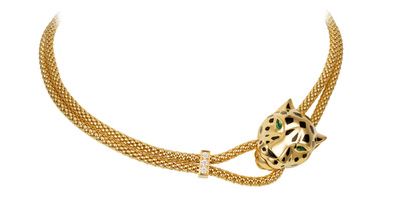 Background of the case
Fope S.r.l, a jewelry designer situated in Vicenza in Italy, has distinguished itself with a special type of "jewelry knit". They managed to register a 3D trademark in Italy and with the European Intellectual Property Office (EUTM no. 010826881). When Cartier, one of the most significant global jewelers, produced their panther head necklace in 2012, they recognized the knit of the chain as their own. Also, in 2014 Cartier released a whole line of products with a similar pattern called the "Amulette de Cartier" line.
Decision of the court
This was an invitation for Fope to sue Cartier in front of the Venetian court. Fope claimed Cartier was confusing the public and free-riding on Fope´s success, damaging their public image and causing a drop in market share.  They asked the Court to ban sales of the necklace and the line, not only in Italy, but EU-wide. Opposing their claims, Cartier said Fope´s trademark was invalid, as the trademark was a shape mark, with the knitting giving substantial value to the product.
Judge Anna Maria Marra recalled the Stokke verdict (case C‑205/13), where it was explained what it meant to give significant value to a shape mark. According to the Stokke judgement, a shape giving substantial value to the product was the one adding to the products attractiveness, market value and competition advantage, to the point where the consumer´s connection of the shape and the product was hindering the market. The judge deemed this was the case where the Stokke criteria were fulfilled.
The additional claim for unfair competition forced the judge to examine the tiny links constituting the necklace chain. She eventually ruled it out, stating that the jewelry market is so crowded that minor differences between products are enough to exclude likelihood of confusion. Especially in this case, where the dominant element of one necklace is a panther´s head, which is characteristic for Cartier jewelry. With both of the Fope´s claims disproven, the judge ruled in favor of Cartier.